Wellness Place gala succeeded in giving hope, help to NCW cancer patients
The folks at Wellness Place put on quite the gala fundraiser Saturday night at the Cashmere Riverside Center that raised significant dollars to provide critical support for North Central Washington cancer patients. It was a thrill to participate and capture the spirit of contribution and caring that is woven throughout the organization and its supporters.
The national fundraisers for cancer causes are great worthy, but we have so many people in our region who are struggling with cancer and need help to make ends meet while they are being treated. Wellness Place exemplifies how terrific our communities are in helping those in need. The outpouring of support from companies and individuals in response is heartening. Cancer touches so many lives and supporting Wellness Place is a way of making a meaningful contribution. They provide things like gas cards for those traveling long distances for treatment as well as personal emotional support through various groups and programs. This is the essence of community building and caring.
Erin Cass, the executive director of Wellness Place, said the fundraiser set a record this year by netting more than $40,000. Besides cancer support, the organization also provides training called SAIL (Stay Active and Independent for Life) that helps seniors prevent falls and live more active lives. That program is a model for the state.
A couple of special moments highlighted the evening. Volunteer Lynne Barnhart was given the legacy award for her contributions. And auctioneer Cody Hodge, who makes these events so much fun, told the crowd about his battle with Leukemia.
Here's a tip of the cap to Cass, program director Mary Brandt and the board of directors, including Dr. Carl Kjobech, Dr. Dave Weber, Pam Hannah, Dr. Tom Halgren, Anne Brooks, Callie Klein, Carol Schrader, Melissa Knott, Megan Kovanen, Kendra Shemorry, Pat Aylward, Linette Gahringer and Jean Horan.
To lend your support, visit wellnessplacewenatchee.org and donate.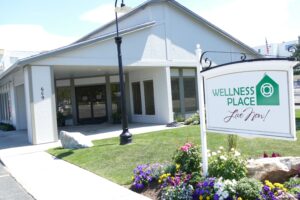 Comments