Rev. Nancy Gradwohl reminds us to continue growing, learning, loving
Rev. Nancy Gradwohl, the pastor at Faith Lutheran in Leavenworth, is the kind of person who never stops learning, growing and evolving as a human being. She's comfortable in her own skin, speaks her mind and is unwilling to follow convention.
When she tells you that she got her first tattoo at age 50, took out a loan to attend seminary at age 71 and has done a variety of jobs from being a barmaid, retail clerk, seamstress and even a manure forker on the racetrack, it's apparent that she's full of life and is nowhere near done serving others.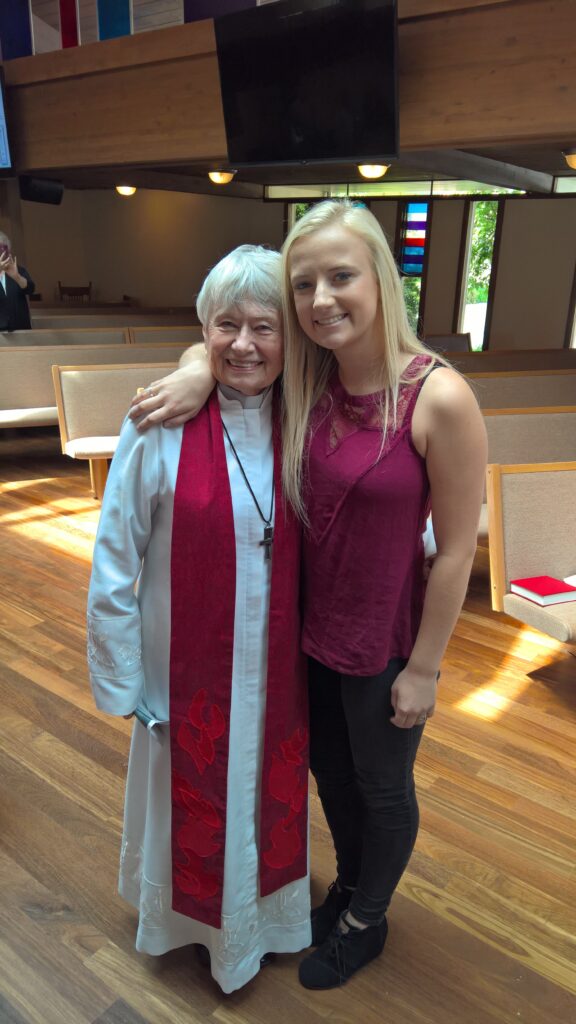 Gradwohl, who is of Danish descent and grew up in Seattle, was one of four individuals who participated in the Ripple Foundation's Elder Speak program in September, joining Sandy Reiman, Dr. David Notter and Jim Telford.
During the year-long Elder Speak process, the group met regularly and reflected on life experiences, lessons learned and wisdom gained. I was particularly taken with Gradwohl's wisdom statement that emerged from those dialogues: "Everything comes from somewhere," which refers to the notion that people are a product of their experiences and environment and the importance of trying to understand why people do what they do rather than simply judge and write them off. This is a lesson that all of us could learn from and put into practice.
Gradwohl got interested in the Lutheran church as a young girl and once was invited to "preach a message," which she said was unusual for a female teenager. At that time, the Lutherans did not ordain women so becoming a pastor wasn't an option.
After retiring from teaching middle school, she served as a lay pastoral assistant and was introduced to the experience of being with individuals who were in the process of dying, something she described as "a very nourishing experience" that included moments of tenderness and also moments of hilarity.
She recalled one such instance in which the woman was ready and prepared to transition from this life. Gradwohl visited and check to see if the woman was still breathing. The woman woke up with a start and said," Oh, crap. It's you," and was disappointed she was still alive.
That story is vintage Nancy Gradwohl. She takes life as it comes and meets it with gusto.
During her time at Pacific Lutheran Theological Seminary in Berkeley, she recalled spending time engaging in a cross-cultural experience to engage people in different circumstances; it involved doing night ministry on the streets of San Francisco. "We went into communities that I had never imagined when I was in my 20s and 30s," Gradwohl told me.
They would be out from 9 p.m. until 2 a.m. and in the course of the work visited transgender and gay bars and talked to people living in alleys. "One young man could have been one of my sons," Gradwohl recalled. She gave him a pair of socks and he asked her to pray for him, "so I put my hand on his shoulder and I prayed," she said.
She had rich conversations with people who were struggling in life but who were still human beings. "So, I learned a lot about my attitude and the caste system (in this country)," Gradwohl said. She sees how difficult life is for people on the margins and bristles at the attitude some express that these folks should go out and get a job. "That really makes me mad when people are condescending," Gradwohl told me. How are they supposed to get a job when they haven't bathed, don't have clean clothes, aren't sure how to fill out a job application, etc., she said. "They don't have a support system and maybe they haven't had for years," she added. This deep sense of compassion and an unwillingness to write people off led her to the ministry.
At 81, she's not slowing down. "I don't feel like my life is over. I feel like my life is just a big adventure and I don't know what's around the corner," she said.
As a society, she thinks we should choose to be kind, treat others with respect and dignity, and abandon the rampant materialism and selfishness that drive our culture. Nancy Gradwohl is helping us see the humanity in others, and we need that these days.
Anyone who wants to see the conversation with the Elder Speak group can access it at theripplefoundation.org.
Comments