Brave Warrior Project's adult program brings, joy, belonging and personal growth
During a recent visit to the Brave Warrior Project, staff member Ashleigh Flint switched on the Disney Karaoke program and participant Mark Lee's eyes lit up. As the music started playing and without looking at the words, Mark confidently belted out the tune to "You'll Be In My Heart" from the movie Tarzan.
As he was singing, fellow Brave Warriors Cecilia (Cici) Almanza and Harli Stentz joined in by strumming guitars. The place was rocking and all eyes were on the performers.
Lee, like his fellow participants, finds joy and belonging in playing music, creating art and other activities that are part of a pilot project providing adult enrichment activities at the small but successful Brave Warrior Project, which is housed in what was once the Press Room Theater at 14 N. Mission St.
When the song was finished, there were hugs all around. Special moments like these are a daily occurrence at the Brave Warrior Project. "This is our why," said a smiling Erica Moshe, the nonprofit's executive director.
Moshe had invited me to visit the adult enrichment class recently to see how the staff, volunteers and participants are working together. The hour I spent rubbing elbows with the group was uplifting and joyful.
The Brave Warrior Project is a gem of a nonprofit that is helping youngsters with chronic illness, cancer, learning challenges and those with unique abilities stretch themselves mentally and physically by learning new skills in an accepting and supportive environment.
Previously, Brave Warrior Project had limited participation to those who are between ages 3 and 21, as well as providing education and advocacy for family members. But the need in the community is significant.
One thing I appreciate about Moshe and her staff is the continual drive to make a bigger impact but only if they can do so in a financially sustainable way that creates meaningful experiences for participants.
When the parent of a Brave Warrior inquired about enrichment activities for adults, Erica and the board figured out a way to fund the program. The program was an instant hit and, like other Brave Warrior programs, has a waiting list.
It is an unfortunate reality that our valley provides limited growth opportunities for individuals with developmental challenges to participate in our communities. Special Olympics creates some important opportunities, as does the Wenatchee City Parks and Recreation program, Alathea Therapeutic Riding Center and a few others. But a survey conducted on behalf of the Brave Warrior Project indicated that about 60 percent of adults with developmental challenges have been mostly sitting at home — out of sight and out of mind.
A forward-thinking and inclusive community would be doing more to create opportunities for these individuals. After all, they each have unique talents and abilities — they learn and evolve like all human beings.
I was fortunate enough to experience this first-hand. When I pulled out my camera to start taking photographs, CiCi Almanza asked to look through my camera. She wanted to try her hand at taking photos, so I showed her how to snap a photo and looped the camera strap around her neck.
She quickly caught on and, as confident as can be, she went to work recording images around the room. She took some pretty awesome photographs and so in that brief exchange, we potentially discovered a hidden talent that can be explored and developed. Other participants in that day's activities included Jack Waite, Amber Palacios and Cassandra Elser. They are delightful souls and I felt privileged to spend time with them.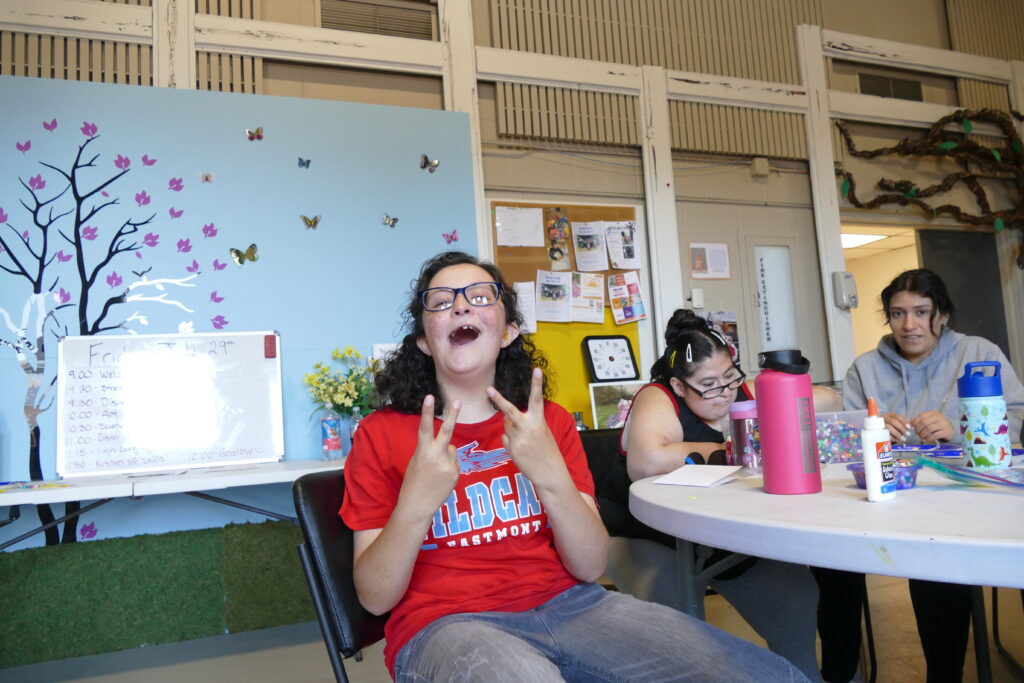 My favorite photograph was a beautiful profile of intern Jessica Morales. As Cici Almanza was taking that photo, I captured an image of the two of them.  This was such a wonderful example of what is possible when you create opportunities for individuals to learn and experience in a supportive environment. 
The Brave Warrior Project is doing amazing work in this valley. They've got an auction fundraiser scheduled for Sept. 17 and are looking for auction items and for people to bid on them to support their efforts.
For more information about Brave Warrior Project, contact Erica Moshe at [email protected].
Comments