Lake Wenatchee Fire and Rescue program helps vulnerable adults stay healthy, safe
I'm touched that the folks at Lake Wenatchee Fire and Rescue have found a creative approach to helping those who are elderly and disabled in that far-flung community that has precious few services.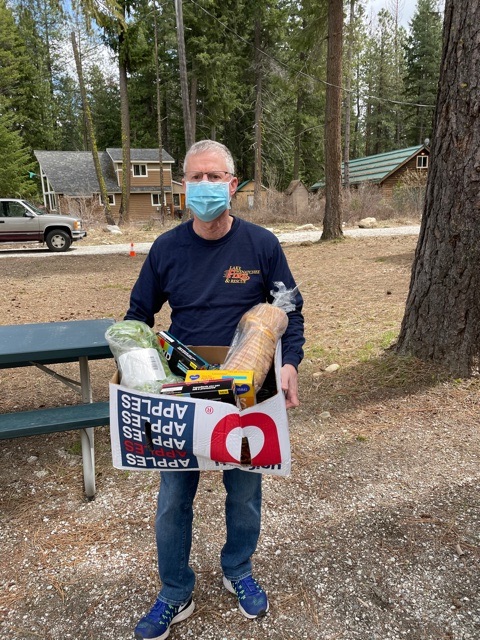 Mike Pirotto, a lieutenant with the fire district, EMT, and a retired law enforcement officer from California, saw the need a few years ago and figured that since the fire department is the only government agency with a full time presence in the valley, they should take this on as a project.
Pirotto also saw that 911 calls being generated by these individuals were tying up the emergency system. At the time, he identified four individuals who might need help from time to time.
That launched a community effort that has expanded to help about 20 people at any given time in the valley and includes a wide range of assistance. The fire district obtained grant funding to help pay expenses. They are providing an incredible range of assistance during home visits, such delivering boxes of food, grocery shopping, picking up medication, delivering wood, shoveling walkways and driveways, helping individuals navigate health insurance and home health issues. They also take individuals to medical appointments, help Firewise their homes and will soon be doing routine vital sign health checks to catch potential medical issues early.
The effort has two objectives: Helping out vulnerable neighbors and making it possible for them to enjoy quality of life and at the same cut down on 911 emergency calls that might unnecessarily tie up the system and resources.
Pirotto works with a volunteer social worker who lives in the Lake Wenatchee area, Katie Walker, to provide some of the assistance.
The services are offered freely by the department and of course the vulnerable adults choose whether to accept the help. The fire department is held in high regard in the valley and that has helped foster a sense of trust and confidence.
Pirotto had no idea when he started, but state law allows fire departments to provide community referrals and education. Lake Wenatchee Fire and Rescue is doing that and much, much more.
One unanticipated benefit is that it has allowed families from outside the area who have vulnerable adults to have someone they can contact if they have concerns about loved ones.
Because of this work, the Lake Wenatchee and Plain communities will be far better prepared to deal with disasters like wildfires or ice storms, such as the one that hit the area several years ago. "We know who these people are," Pirotto told me.
One success story concerns a resident who Pirotto took on as a client. The individual needed to have some teeth extracted but his dentist was reluctant because the person may have been on blood thinners. Pirotto was able to step in and figure out what the person was taking and work to get the client treatment.
I find it impressive and heartwarming that the Lake Wenatchee Fire Department has identified this serious community need and figured out ways to be there for vulnerable residents. We have a government social safety net that is unraveling in this country and private enterprise won't fill the void. This kind of community driven mutual help effort is going to become essential. For Pirotto, the community outreach effort also builds on the legacy of community service that families like the Burgesses, Newells, Dickinsons and others have been practicing for decades. "It's that kind of place and there are a lot of good people up here," said Pirotto.
Comments