Our dialogue on race uncovers how much we can learn about others, ourselves
I've been part of a group of nine individuals exploring issues around race and racism in our society. To help us lean into the subject, we are using the "Racial Healing Handbook" by Anneliese Singh.
Recently, we met for the sixth time via Zoom and discussed the resources that we have drawn upon in our lives to better understand what life is like for people of color — books we've read, movies we have watched, and relationships we have developed.
I have come to greatly value the format of our discussions and the wisdom and perspective of my fellow study partners. People sometimes ask why there are no people of color in our group, which is a legitimate question. We decided it would be best if those of us in the dominant white culture start by studying our own race first and examining whether other races get the advantages we are afforded. In mixed groups, the onus of teaching whites about racism falls to people of color —a pressure we felt would be inappropriate.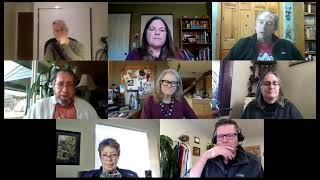 Prior to these discussions, I admit I had rarely thought about the color of my skin or how my experience in the world is impacted by that. It has been a useful and sobering discipline to do so.
We have chosen to record our sessions so that anyone can watch our deliberations. Readers can search YouTube for "living into inclusivity dialogue 6" and watch the episode.
Our group includes seven from the local faith community, Sheila Marie and John Coleman Campbell from First United Methodist Church, Dave Haven of Celebration Lutheran, James Aalgaard of Grace Lutheran, Laura Shennum of Cascade Unitarian Universalist Fellowship, Frances Twiggs St. Luke's Episcopal Church, and Thom Nees of Serve Wenatchee Valley, plus Karen Rutherford and myself from the community. 
Here's a link to the video: https://youtu.be/hLnYbKgy5D0
During our dialogue, we listed a few dozen key resources that have helped us become more aware of how people of color experience our society. We discussed powerful films like "Selma" and the documentary "I Am Not Your Negro" about the life of James Baldwin. There are numerous great books/movies, from Just Mercy by Bryan Stevenson; How to be an Anti-Racist, by Ibram X. Kendi; My Grandmother's Hands, by Resmaa Menakem; The Warmth of Other Suns, by Isabel Wilkerson; I'm Still Here, Austin Channing Brown; The Body Is Not an Apology: The Power of Radical Self-Love, by Sonya Renee Taylor; Martin Luther King: The Inconvenient Hero, by Vincent Harding and so many others. For a full list of resources, please visit artofcommunityncw.com and search for Living Into Inclusivity.
One of the perspectives that all of us share is how important it has been to be part of a group with fellow humans who are willing to be vulnerable and interrogate our own inner landscapes to gain a clearer picture of our own biases and prejudices.
Aalgaard shared with us what an eye-opener it was to do an online cultural competency assessment and discover, to his chagrin, that there was "this super wide gap" between his perceived cultural competency and his actual score. "So I know that I'm on quite a journey myself," Aalgaard concluded.
Every one of us is having similar aha moments in which we come face-to-face with our own assumptions about what life is like in this society and the radically different experiences that of people who have different color skin.
What I think we are all coming away with is how change has to start in our own hearts and minds and by seeing more clearly the truth that our society treats people very differently depending on one's skin color.
It's sobering and it challenges us to not just accept this but work toward creating a more just and compassionate society.
One powerful insight so far is that it takes effort to really know someone else and how rewarding it is to see other human beings in all their complexity. It reveals our shared humanity.
Some Resources on understanding race in America:
Books/Authors
Cry the Beloved Country, by Alan Paton
Massacre at Sand Creek: How Methodists Were Involved in an American Tragedy. by Gary L. Roberts
I'm Black I'm Christian I'm Methodist, by Lillian C. Smith
How to Be an Antiracist, by Ibram X. Kendi
My Grandmother's Hands: Racialized Trauma and the Pathway to Mending Our Hearts and Bodies, by Resmaa Menakem
Roots: The Saga of an American Family by Alex Haley, Avery Brooks, et al.
Bury My Heart at Wounded Knee: An Indian History of the American West by Dee Brown, Grover Gardner, et al.
Caste (Oprah's Book Club): The Origins of Our Discontents by Isabel Wilkerson
The Warmth of Other Suns: The Epic Story of America's Great Migration by Isabel Wilkerson
Your Body Is Not an Apology Workbook: Tools for Living Radical Self-Love by Sonya Renee Taylor
The Body Is Not an Apology: The Power of Radical Self-Love by Sonya Renee Taylor
Just Mercy: A Story of Justice and Redemption by Bryan Stevenson
Homegoing by Yaa Gyasi
There There by Tommy Orange
Tecumseh by John Sugden
Beloved by Toni Morrison
White Too Long: The Legacy of White Supremacy in American Christianity by Robert P. Jones
Becoming by Michelle Obama
Martin Luther King: An inconvenient Hero by Vincent Harding
Stamped from the Beginning by Ibram X. Kendi
I'm Still Here: Black Dignity in a World Made for Whiteness by Austin Channing Brown
The Color of Law: A Forgotten History of How Our Government Segregated America by Richard Rothstein
Podcasts:
Nice White Parents
1619 Project
Onbeing.org
Films
I am Not your Negro
Hidden Figures
Selma
Us
Get Out
To Kill a Mockingbird
A day without a Mexican
Cry Freedom
42
The 13th
When They See Us
Fruitvale Station
Maya Angelou: And Still I Rise
The Hate U Give
Watchmen
The House I Live In
Dear White People
Just Mercy
Music
Strange Fruit – Billie Holiday
Comments