Living Into Inclusivity: Our second conversation will focus on the insightful work of Resmaa Menakem
Recently, I joined a small group of pastors and another civic leader in launching a series of conversations about race and belonging. We're calling this effort Living Into Inclusivity and our objective is to become more aware of what it means to be part of the dominant white culture as well as trying to better understand the reality of life experiences for those who are different.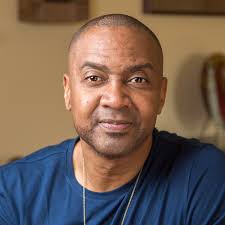 Our second conversation is scheduled for Thursday, Sept. 24. To prepare for that discussion, we will be listening to a podcast in which Krista Tippett of Onbeing.org interviews therapist and trauma specialist Resmaa Menakem titled "Notice the Rage, Notice the Silence."
He's the author of My Grandmother's Hands: Racialized Trauma and the Pathway to Mending Our Hearts and Bodies
Menakem helps organizations and communities wade through and make sense of the murky and difficult issues of race and racism in our culture.
"So the premise of the work is predicated on the idea that there was a certain time where the white body became the supreme standard by which all bodies' humanity shall be measured," Menakem told Tippett in the interview, adding: " f you don't understand that, everything about America will confuse you. Everything about racialization will confuse you."
Of his work, Menakem says "I am a healer. I help people rise through the suffering's edge. I am a cultural trauma navigator. I am a communal provocateur and coach. I consider it my job in this moment to make the invisible visible."
Here is a link to Tippett's interview with Menakem:
Soon after our conversation, our group will post the video of our discussion for those who may be interested in following along. The members of our group include civic volunteer Karen Rutherford and faith leaders Laura Shennum of Cascade Unitarian Universalist Fellowship, Sheila Marie and John Coleman Campbell of First United Methodist Church, James Aalgaard of Grace Lutheran Church, Dave Haven of Celebration Lutheran Church, Thom Nees of Serve Wenatchee Valley and Frances Twiggs of St. Luke's Episcopal Church.
We hope our journey into this challenging subject will serve to bring people together and foster greater understanding and empathy.
Comments