Our Valley What's Next Part 5: The local action plan and game changers to be announced this fall
Publisher's note: The is the fifth in a series of articles about the background and progress of Our Valley What's Next, a grass roots community improvement project for the Wenatchee Valley. Check out the OVWN web site at ourvalleywhatsnext.com and see the Art of Community Project web site at artofcommunityncw.com for photos, videos and more stories – Rufus Woods.
By Steve Maher, coordinator, Our Valley What's Next
Our Valley What's Next reached the semi-finalist round in the national America's Best Communities (ABC) competition, which recognizes communities across the United States that are developing solutions to transform their communities.
By advancing to the semifinal round, Our Valley received $75,000 to help get the project off the ground and squarely into its Phase II work.
Two main work products — final commitments from lead partners and recommendations from the Think Tank — are proceeding on parallel tracks and are expected to be completed in October. The Our Valley steering committee will then review that information, plus the results of the recent survey and open house voting, and put the final touches on the Action Plan. The schedule right now calls for the Action Plan to be released in November.
"This is an exciting and historic time," said Alan Walker, executive director of the United Way of Chelan and Douglas Counties, the fiscal sponsor of Our Valley What's Next. "Over the next few months, Our Valley will create a plan to guide the community's growth and change for the next 15 to 20 years."
 Once the Action Plan is finalized and released, Our Valley What's Next will begin Phase III — overseeing the implementation of the specific actions and major projects. As it has since its formation, Our Valley will largely serve as a facilitator and resource during this phase.
The "think tank" members represent diverse aspects of the Wenatchee Valley. The group includes:
Joan Alway, Columbia Valley Community Health board, former executive director of the Icicle Fund; Cori Bautista, Banner Bank real estate loan officer; Sarah Bumps, Davis Furniture and Wenatchee Valley Chamber board member; Mario Cantu, Molina Health Care community engagement coordinator; Selina Danko, Wenatchee Valley Museum & Cultural Center education coordinator; Clay Gatens, attorney with Jeffers Danielson Sonn & Aylward law firm; Linda Evans Parlette, state senator from the 12th Legislative District; Jennifer Korfiatis, owner of Jennifer Korfiatis Marketing owner, Wenatchee Valley College adjunct professor; Frank Kuntz, mayor of the City of Wenatchee; Steve Lacy, mayor of the City of East Wenatchee; Violeta Martin, Wenatchee Valley College CAMP recruiter retention specialist, New York University graduate student; West Mathison, Stemilt Growers president and CEO, board member of the Federal Reserve's Seattle branch; Jenny Napier, Greater Wenatchee Area Technology Alliance executive director; Jeff Ostenson, North 40 Productions owner and executive producer; Jim Richardson, Wenatchee Valley College president; Karen Rutherford, Makerspace Wenatchee director; Peter Rutherford, Confluence Health chief executive officer; Galen Sorom, Confluence Health physician; Lupe Suarez, Child Care Aware of Central Washington specialist; Mike Walker, Eagle Group chairman and Pybus Public Market founder; Rufus Woods, Wenatchee World publisher; Steve Wright, Chelan County PUD general manager.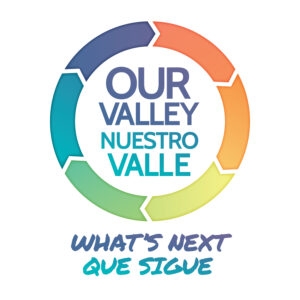 Comments