Our Valley What's Next Part 4: How community members worked together to select projects and identify lead partners
Publisher's note: The is the fourth in a series of articles about the background and progress of Our Valley What's Next, a grass roots community improvement project for the Wenatchee Valley. Check out the OVWN web site at ourvalleywhatsnext.com and see the Art of Community Project web site at artofcommunityncw.com for photos, videos and more stories – Rufus Woods.
By Steve Maher, coordinator, Our Valley What's Next
In February 2016, Our Valley What's Next embarked on the project's Phase II with the release of its initial 28 strategies centered around the six focus areas. More than 2,000 copies of a Vision Booklet were distributed throughout the community. The document also was made available on the Our Valley website and social media platforms.
Later that same month, six action teams made up 100 residents began vetting and developing action items addressing the local economy, education, health care, public safety, arts and culture, diversity, land use, transportation and the environment. These action items originated from the most popular themes identified during community outreach in 2015. In May, the action teams completed their work, including the identification of proposed lead partners and timelines for each of what ultimately were 156 recommended action items.
In early June, the 76 organizations identified as potential lead partners by the action teams were invited to an orientation event at the Confluence Technology Center. By the end of July, 62 of the organizations had provided feedback to Our Valley, expressing a willingness to be involved in some capacity. Our Valley is now engaged in deeper discussions with these organizations to determine their commitment level.
Also in June, Our Valley appointed a 23-member Think Tank to vet, amend and develop major "game-changer" projects that arose out of the community outreach work in 2015. The Think Tank — made up of community leaders and visionaries — is expected to forward its recommendations to the Our Valley steering committee in October. The game-changer projects will be part of Our Valley's first Action Plan. The Action Plan's release this fall will mark the end of the project's Phase II.
In July, Our Valley launched an online survey to find out which Our Valley action items and projects the community believes should be prioritized. Results will be tabulated in mid-August and combined from "voting" on action items that took place at at a June public open house attended by more than 100 residents.
The community response will help determine which action items ultimately are part of the Action Plan when it is released this fall.
Coming next, see Part 5 : Successes to date and next steps for the Our Valley What's Next process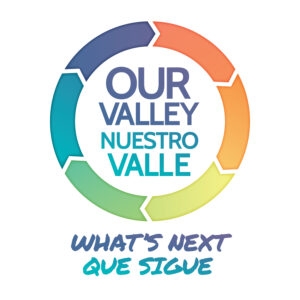 Comments