All of Creation art camp at Pybus builds community, inspires kids' creativity
Thanks to a wonderful partnership between a small local church and Pybus Public Market, as many as 200 youngsters in our valley will have the opportunity to attend the All of Creation art camp from 10 a.m. to noon on Aug. 10-11.
The two-day camp inspires kids by exposing them to different ways of making art, from watercolors, abstracts, sculpture, poetry, photography and more. By showcasing the art these kids create, it highlights the sometimes hidden talents of kids for their families to see and appreciate.
Johnathan Thomas, the operations manager at the market who is also pastor at Pacific Crest Church, came up with the idea of a free art camp as a way to foster creativity and a love of art for kids from 4-17 years old.
For the members of the church, the All of Creation camp is a way to be of service in the valley. Pybus Market's foundation has been staunchly supportive of the community as a whole, including visual artists.
"When I left my traditional space in 2013, I stepped into my community to explore where the needs might be." He noticed there were wonderful opportunities for kids' music, sports and drama, but there were not as man programs for the visual arts.
"We wanted to bring high-quality art to kids so they can just step into creating and exploring," Thomas said. This fits with the mission of the church to "explore, create and empower."
This is the ninth year of the camp and it relies on perhaps 20 adult volunteers from the community as well as another few dozen youth volunteers who are coming from a church in Vancouver, Wa to participate in this community-creating event.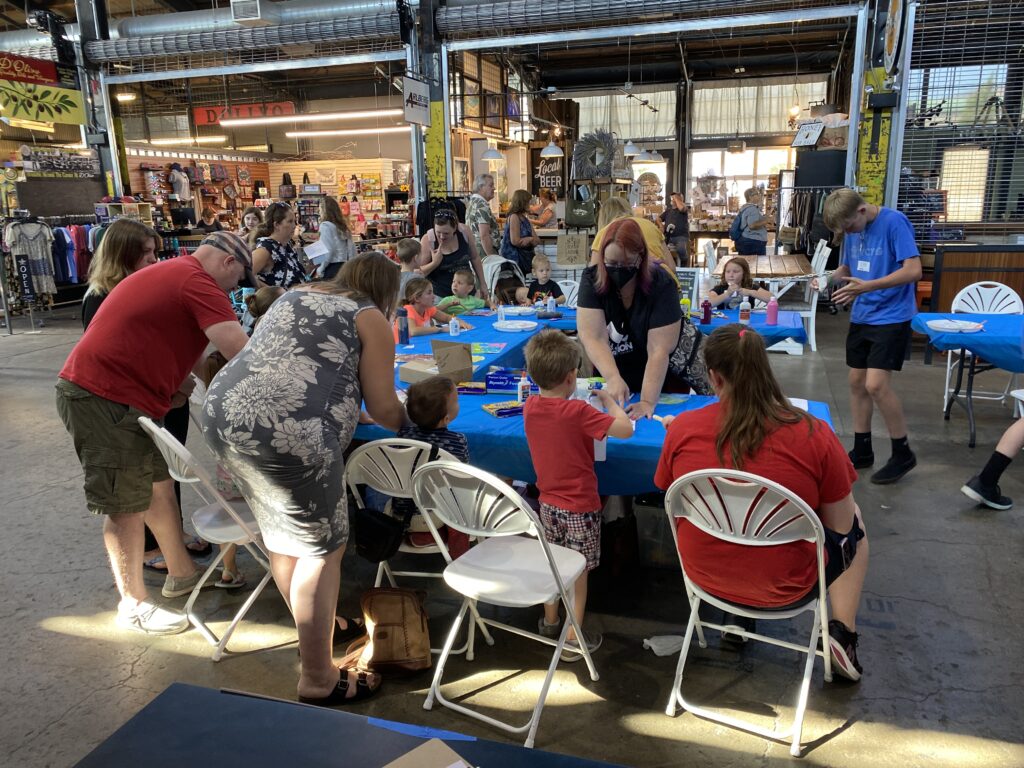 There will be ten art stations that kids can explore at their leisure. There's no schedule or rotation. Kids are empowered to find what interests them and start exploring different ways of creating art.
Selected pieces of art created by the kids during the two-day camp will be showcased at Pybus on Saturday, Aug. 12. Thomas said one of the great joys of the whole event is seeing parents filled with a sense of pride at what their children have accomplished. "Most of the time, parents, myself included, are too busy and miss the opportunity to see what their children can do," he said.
For many families in our midst with limited resources, spending money on art supplies can be challenging. Thomas recalled that last year, one aspiring young artist was awarded a full painting setup, including an easel, canvas and paint. They look for opportunities to lower barriers and create opportunities for kids to expand their artistic horizons.
When I was interviewing Thomas, we spent a lot of time talking about the value of hospitality in a community. Pybus Market provides the hospitality of the space for the event in the Local Tel Events Center and also on the market's main concourse. The volunteers, young and not-so-young, bring that same sense of hospitality in their work to encourage and support the kids who are participating.
One thing you'll see at the event, said Thomas, is kids from all walks of life at the All of Creation camp. It's a program that is open to absolutely any kid. There is no childcare at the event and so parents will need to be on hand to help young children. The All of Creation camp is an opportunity for kids and parents to be together while the kids are exploring art.
Thomas has big dreams for visual art opportunities in our valley. He'd love to see monthly art making programs at Pybus sponsored by either All of Creation camp or some other organization. "We're all about sharing the opportunities for people to lead (art-making) in our community," Thomas told me.
The All of Creation camp beautifully reflects the cultural ethos of our valley. We care about all kids, create opportunities for those who might not otherwise have opportunities and celebrate what they accomplish.
Comments