May conference will bring civic and Rotary leaders together to brainstorm how to strengthen communities
I am intrigued and encouraged by the community-centered approach Leavenworth's Rotary Club is using to host the annual district conference in early May. They are taking the unprecedented step of inviting outside civic leaders from the region to join with Rotary leaders to reimagine how we can strengthen our communities by working together to solve the many challenges facing us.   And just to add more community leaders voices, they are inviting 100 high schools student leaders to join alongside.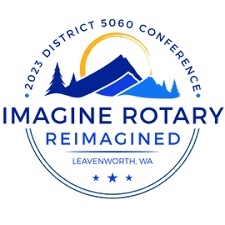 The name of the conference — Imagine Rotary Reimagined — could easily be translated to "Imagine Community Reimagined," because the purpose is to envision new ways for communities to thrive. The conference will be held on May 19-21.
In this era of heightened polarization that is driving families and communities apart, I can't think of a more noble purpose than building the capacity for us to find common ground and see each other as contributing members of the community.
Leavenworth is hosting the event because the district governor for Rotary is hotelier Karl Reuther of the Bavarian City. The conference is headlined by cross-country ski legend and Olympic Gold Medalist Kikkan Randall and world-class mountaineer Ed Viesturs, the only American to have climbed all 14 of the world's eight thousand meter mountain peaks without supplemental oxygen.
The idea for the approach to the conference was developed by my friend Colin Brine, a long-time Rotary member who has built a career around fostering collaboration that builds a sense of community in his consulting work at his leadership firm, Be Clearly. He enlisted James Carter, the CEO of the consulting firm Be Legendary, to facilitate the conference. Carter is a master at helping teams of people think creatively and expansively about how to create a powerful future.
Why is it important that we think in fresh new ways about the challenges ahead of us? Well, the simple answer is that doing things that worked in our businesses or nonprofits ten or twenty years ago is almost certainly going to be a recipe for failure. The world has changed.
With technological revolutions disrupting every aspect of life, we must think differently about how we solve community challenges. We need to find new ways to work together across political and philosophical boundaries in face-to-face interactions, despite the culture wars that are being waged around us.
We can and should rebuild our sense of community in these fraught times and learn to shut out the cacophony of outside noises that keep us from finding common ground. This is not easy.
One critical opportunity as leaders is to think about community success from a variety of different angles and not from a zero-sum mindset of "I win, you lose." There are situations in which competition can bring about the best outcome and other situations when collaboration works better. Our task as leaders is to find ways to balance those competing approaches as we seek to build a stronger, more vibrant and successful community or organization.
At the Imagine Rotary Reimagined Conference, teams consisting of both Rotarians and other civic leaders will work together to build on existing ideas and brainstorm new approaches to build thriving communities. They'll also work together on a community impact project that will benefit young individuals in the Upper Valley, according to Brine.
Rotary and other service organizations in our communities do invaluable work helping us address local challenges that strengthen the fabric of our society. Those of us who are non-Rotarians can learn alongside these leaders and think about how we can make a bigger and more meaningful impact on our communities.
I'm going to be attending this conference to see what new ideas I can learn from Rotarians and non-Rotarians alike. I am passionate about building on the strengths of our communities and finding new ways to live, learn and contribute. For more information on this conference, check out
Comments