Pybus hosts Make a Difference Day Saturday, and we all can help
Pybus Public Market and its foundation make immeasurable contributions to the Wenatchee Valley by bringing people together and strengthening the bonds of community.
This Saturday, Pybus will be the headquarters for the 32nd annual Make a Difference Day, a national day of volunteerism that continues to inspire people to be of service to others.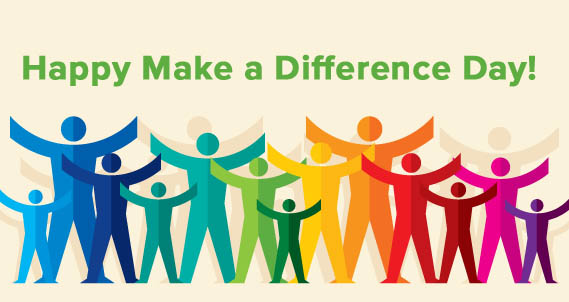 The local Make a Difference Day program was started by Margie Kerr and her sister, the late Betsy Tontini, as part of a national effort to encourage volunteerism and civic service.
Dawnette Thomas of the Pybus Market Foundation has been busy getting this year's Make a Difference Day organized.
There is nothing more satisfying than working together with others to help make the community better. Our local Make a Difference Day efforts have earned national recognition. The local Make a Difference Day effort has resulted in nine national awards, which led to tens of thousands of dollars coming into the community for worthy projects.
To continue this important tradition of service, we all can help by finding a way to serve others this weekend. The Make a Difference Day folks make it very easy to help out in the community, with more than 40 local projects identified.
Getting involved is simple. The easiest way to get involved is to look through the projects on the website and sign up to help out on Saturday. If you have children, it's a great way to spend quality time showing them the importance of giving back to others.
But you can contribute to Make a Difference Day on your own, as well. You can set aside a few hours to, say, clean up trash in your neighborhood or find some other meaningful way to build community. The work doesn't have to be done on Saturday — there are projects happening on an ongoing basis.
To access the local projects, go to the Make a Difference Day website, wenatcheemkdd.com, hover your cursor over the tab titled "Projects' ' and you'll see three options. Clicking on "Projects" will lead you to a list of this year's community efforts. You can also follow Wenatchee Make a Difference Day on Facebook.
Here are a few examples:
The Wenatchee Valley YMCA is having a fall work party at its summer camp at Lake Wenatchee.
The City of Wenatchee is seeking volunteers to do a light cleaning of outdoor sculptures.
The NCW Community Toy Drive presented by Les Schwab will be collecting toys at several locations in the valley.
Camp Fire is holding a fall cleanup at Camp Zanika Lache at Lake Wenatchee
The Entiat community is hosting museum and park projects
The Saints With Socks program will collect warm socks for people experiencing homelessness at Pybus Market.
Chelan-Douglas Land Trust, Team Naturaleza and the City of Wenatchee are hosting a project to plant native grasses and shrubs at Saddle Rock.
The Hat Project will receive yarn donations so volunteers can knit hats for kids who are in need.
Wenatchee Rotary clubs are dedicating a Peace Pole and pickleball courts at Rotary Park on Western Avenue on Friday evening.
Class with a Glass and the Wenatchee Valley Senior Activity Center are collaborating to offer an art for all ages event.
Pennies for Polio, a Rotary International effort to eradicate the disease, will collect donations at the farmer's market at Pybus.
Grace Lutheran Church will accept donations of hats and gloves to be given out to people experiencing homelessness this winter.
Make a Difference Day reminds us that people want to do good in the community. Finding common ground through community service reminds us of how much we can accomplish when we work together for the common good.
We owe Pybus Public Market and its foundation a debt of gratitude for keeping this important community effort going.
Comments