Enhancing community energizes Kmbris Bond's artistic efforts
Kmbris Bond, the artist who created the 2019 Pybus Market Charitable Foundation poster, is keen on raising public awareness of and support for the many talented artists in our midst and the importance of art in inspiring creativity, imagination and fostering a sense of belonging and community.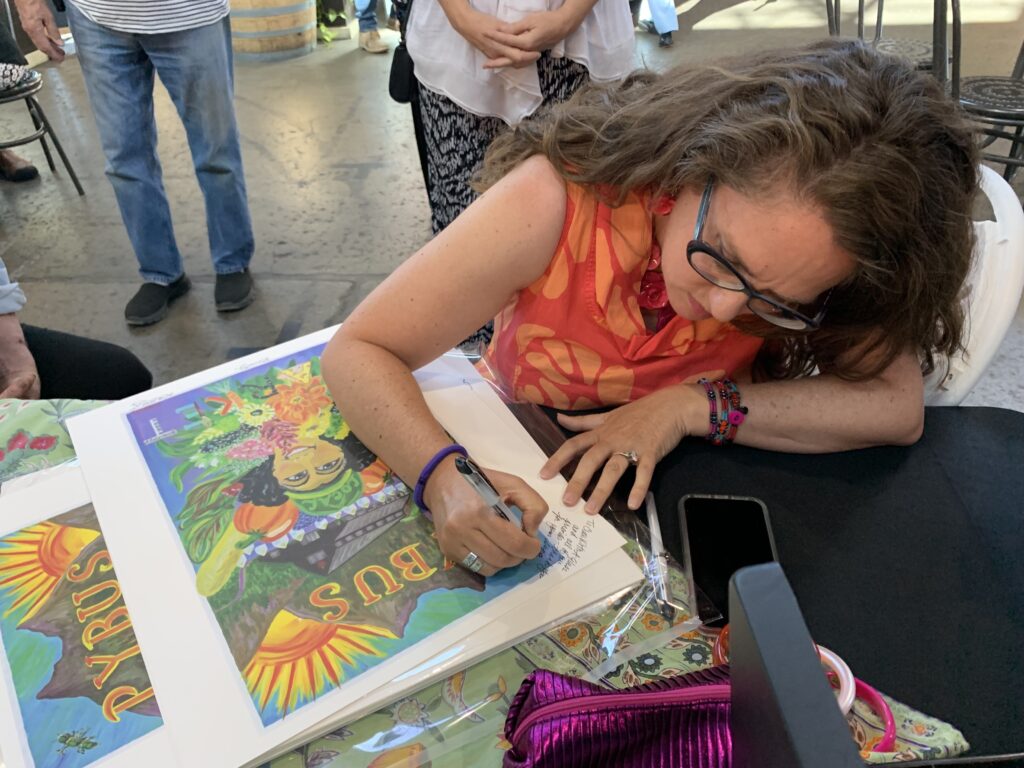 While she has only been painting seriously for four years, she has become a fixture in the valley for introducing folks who may not think they are artists to the joy and technique of painting through sip and paint workshops at local restaurants.
She is a gifted and energetic teacher who goes to great lengths to encourage people to enjoy the process of creating art without all of the self judgements that many of us feel. She offers those classes to the public through a social media platform called Yaymaker, formerly Paint Nite. She started doing this work through Class with a Glass.
The beauty of the Yaymaker business model is that the events are hosted by local restaurants like Inna's Fine Cuisine and Chateau Faire Le Pont, which provide the space during hours that are typically slow for business. The wine and food sales help bolster these businesses and create a sense of deeper community connection.
That approach appeals to Kmbris because it matches her values of creating community and encourage participation in and deeper appreciation for art.
Kmbris, a student of renowned Wenatchee artist Jan Cook Mack, says she Mack has been helpful in encouraging her to develop her own style, and that's something that can be observed in the poster for Pybus that she titled Bounty. "Jan is a great advocate for my art," said Kmbris.
The imagery in the poster reflects the Kmbris's experiences, passions and observations about life in our valley. An outspoken champion for social justice, she chose a woman of color holding flowers to be the dominant feature of the painting.
Kmbris and her sister are growing grapes in Malaga, so those can be found in the poster. It is a richly compelling and original piece of art. The letter "T" in market contains the first few bars of the music for Johnny Appleseed.

Teaching kids at Moses Coulee

A Yaymaker painting class
"I tried to capture the bounty within this space (Pybus Public Market) and within this community," Kmbris told me. The Wenatchee Valley Farmers Market at Pybus has special meaning to Kmbris, who grew up helping her step-father sell organic corn in the valley.
Kmbris said she has always been an artistic type and someone who valued collaboration and relationships. After college she ended up in the corporate world and then ran a nonprofit in Seattle. She and her partner, Richard Trifeletti, moved to the valley several years ago.
"Painting calms my mind when other parts of life are too much," said Kmbris. "If you come into my home, you'll see how much art there is — striking and bright and cheerful. It helps me to choose joy today," she said.
"There is an immense amount of creativity and amazing things brewing" in the valley's art scene, said Kmbris. She noted the tremendous fine art at Two Rivers Gallery, how the Radar Station is pushing the edges of art in its space and creating a "fun factor" and the potential of the new Collapse Gallery.
What this valley needs to build on this strength, she told me, is to find a way to encourage artists be their best creative selves and raise children who are well versed in the arts.
She's connected to the Wenatchee Art Education Consortium through the Wenatchee Valley Museum and Cultural Center, as well as helping organize the Wenatchee Urban Sketchers as well as plein air events that invite artists to travel to a viewpoint and paint.
She's an AmeriCorps member doing work with The Nature Conservancy in Wenatchee and helps organize art events at TNC's field station in Moses Coulee and in the office on Orondo Ave.
On Aug. 29, she'll be taking an exhibition called "Shrub Steppe Rocks" to the TNC headquarters in Seattle and share a paint and sip experience with supporters.
I came away from the interview with Kmbris inspired by her passion for fostering community, making the Wenatchee Valley a place for everyone, and with a deeper understanding of the power of making art as a way to foster the creativity we need to overcome life's challenges.
Comments