The invaluable contributions of Wellness Place to cancer patients and families in NCW
Erin Cass knows just how profoundly Wellness Place impacts the well-being of individuals who have been diagnosed with cancer and their families.
Nine years ago, her mother was diagnosed with ovarian cancer and Cass reached out to the staff at Wellness Place as a safe and confidential place to seek emotional support. A year later, her mother passed away, a loss that changed her life.  She recalls in vivid detail how comforting it was to receive a phone call from Dr. Carl Kjobech, the driving force behind the founding of Wellness Place. The 90 minutes they spent on the phone together provided a human connection and the emotional support she needed at a very raw and difficult time.
I recently spoke with Cass, who has been the executive director of Wellness Place, as part of my Art of Community NCW podcast, a program dedicated to creative community building. Check out the full interview at artofcommunityncw.com or on iTunes. Cass is a native of East Wenatchee and graduated from Central Washington University. Wellness Place, Cass told me, is a place that provides support not only for cancer patients but also for survivors and family members.
"When people walk through our doors, sometimes they've just heard really devastating news 20 minutes prior, so a lot of times people are in shock," Cass said. Providing a listening ear and, if needed, some modest financial support gives cancer patients a needed boost in such difficult circumstances.
"It's a relationship," Cass said. "When they walk through our doors I want to make sure they come back again." Building trust and creating an atmosphere of support and understanding are essential elements of the Wellness Place experience that Cass and fellow staff member Mary Brandt provide.
They hand out a lot of gas cards to help people who have to make the long trek for radiation treatment from outlying counties like Grant and Okanogan. Recently a young woman was diagnosed with cancer six months after giving birth and she needed formula and diapers. Cass networked with Junior Service League members, who rode to the rescue. The organization has a limit of $150 of financial help over an 18-month period.
Beyond the financial support, Wellness Place hosts a variety of support groups that create the needed emotional connection for patients, survivors and family members. Wellness Place also provides a fall prevention program called SAIL (Stay Active and Independent for Life) and has also received grants that allowed them to provide ukulele, restorative yoga and painting classes.
Cass said the ukulele class with gifted instructor Tanya Lawson was a big hit with clients. They were nervous at first but within an hour or so they were laughing, singing and starting to pluck tunes on the four-stringed instrument. These programs help individuals forget about their diagnosis for a while and concentrate on learning a new skill.
Wellness Place always appreciates financial support. Feel free to check out the wellnessplacewenatchee.org web site for a complete list of services, contact information and ways to donate. 
One thing that impressed me in my conversation with Cass was her laser focus on the targeted mission of Wellness Place and her willingness to support and encourage complementary nonprofits. She is particularly impressed with Erica Moshe's Brave Warrior project that provides support for children who are ill or have special needs. "She's doing really wonderful things with her own special focus," Cass told me. "It's not Wellness Place's dream or vision — it's hers. We work really well together."
That spirit of partnership, collaboration and the willingness to provide meeting space for outside organizations defines the community-building magic of Wellness Place. Community is built on the strength collaboration rather than competition.
There is another way to support Wellness Place in its work. They are having an annual gala on Sept. 16 at the Riverside Center in Cashmere. The theme is "Love Boat," so if you have a hankering to channel Capt. Stubing, there's your chance. Check out their web site for details.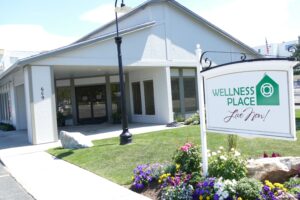 Comments