50 years after historic season, WHS football greats reunite with their barber
On the wall of Merle's Barber Shop on Western Ave., a Wenatchee World clipping from 1973 is prominently displayed showing three seniors on the Wenatchee High School football team Fred Grimm, Mike Allen and Mike Kuntz _ getting pre-season haircuts. The photo was taken at what was then the Valley North Mall Barber Shop.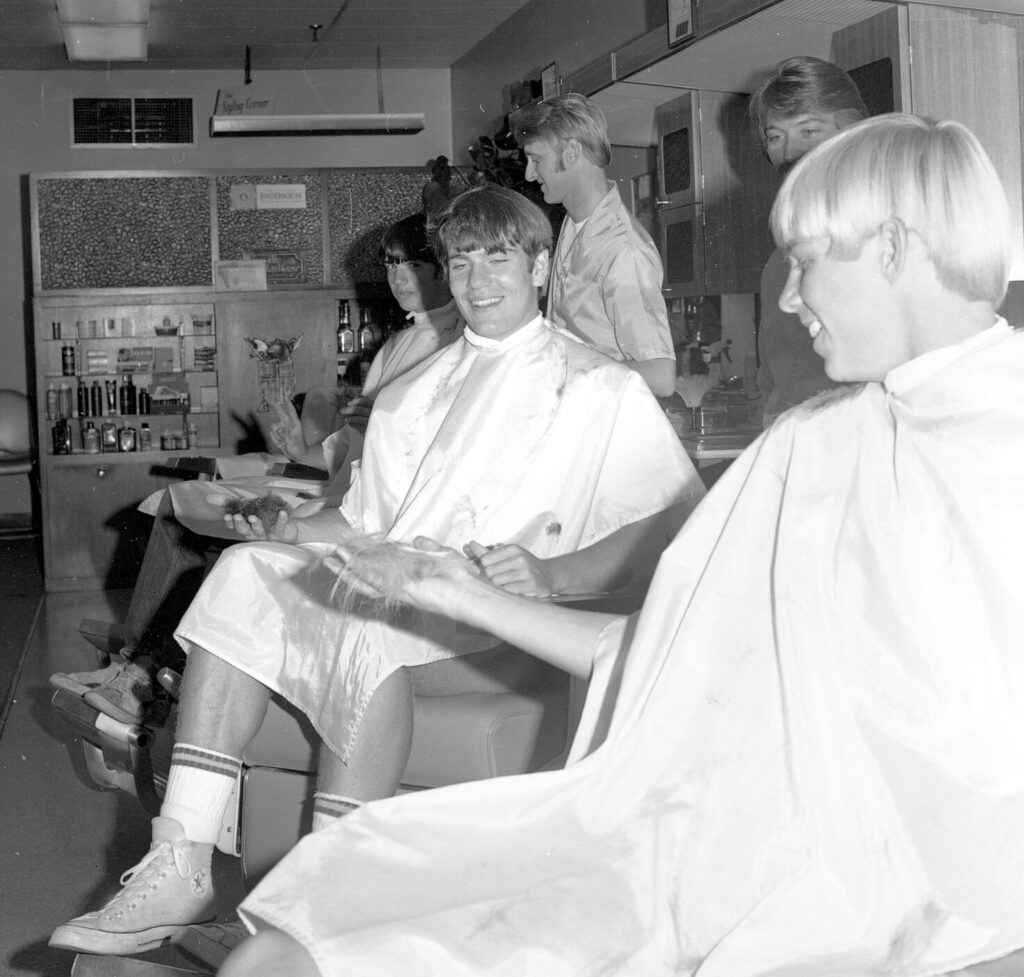 Grimm, a Seattle-based attorney and real estate developer,  found out that DanBrittingham, one of the original barbers, was still cutting hair and arranged for the photo to be recreated. 
Brittingham told me he has been cutting hair in the valley for 53 years, the last 25 years or so at Merle's Barber Shop in the mall on the corner of Fifth Street and Western Ave. He was happy to allow his former customers to come in for the photo shoot.
When the original shot was taken, Wenatchee High School football was in the midst of a legendary streak of success. The late head coach Lee Bofto built quite a program in the valley.
The Panthers had won mythical state championships the three previous years and the 1973 team was loaded with talent led by a crushing defense dubbed "Baker's Dozen" in honor of defensive coordinator Gene Baker. Allen was a rangy wide receiver with a long gait and elusive moves and also was a track star. He would go on to Washington State University, where he placed second in the Pac-10 Conference in decathlon and ultimately played three seasons at receiver for the Seattle Seahawks before a construction career.
Kuntz, an attorney, was a rover back who attended the University of Puget Sound and played basketball on the 1976 NCAA Division 2 National Championship team. Grimm also went to UPS and played football with several other WHS classmates, including Mark Madland, Keith Claypool and Kevin Skalisky.
That 1973 football team was extraordinary. They steamrolled through the first nine games scoring 383 points and allowing zero, thanks in large part to a suffocating defense. That was the first year of an eight-team state playoff and in their first game, the Panthers hosted Fort Vancouver and its outstanding quarterback, Steve Dils, who would go on to star at Stanford on his way to a 10-year career in the NFL. The Panthers gave up its first touchdown of the year on a pass by Dils, but prevailed 10-7 on a cold night at the Apple Bowl.
In the next round, the Panthers faced future Washington State University and NFL quarterback Jack "The Throwin Samoan" Thompson and won by a score of 20-0. The magic came to an end in the first state championship game when a furious comeback against Kentridge fell just short, 26-24.
Allen, Grimm and Kuntz all live in the Seattle area and made the trek over the Cascades to recreate the photo shoot and then had lunch with former Panther assistant coach Dale Skalisky and several teammates from that vaunted defense, including Kevin Skalisky, Larry Stallings and Rob Mitchell.
They're planning a reunion for Panther football alumni from the 1970-73 teams at the Wenatchee High homecoming game on Friday, Oct. 20.
There is a wonderful sense of community and camaraderie that exists with these former classmates and teammates. They made a lot of amazing memories for the whole community.
Comments