Shiloh Burgess built the chamber into a powerful local asset; joins Douglas PUD
The Greater Wenatchee Valley Chamber of Commerce underwent a remarkable transformation under the leadership of executive director Shiloh Burgess, who recently left to take a government affairs position with Douglas County Public Utility District.
Thanks to her vision and skills as a leader, the chamber has evolved into a highly effective organization that has great focus on serving the interests of local businesses, with a team of outstanding employees. It is a radically different institution than the one she inherited. Burgess has proven to be a principled, ethical and thoughtful leader who consistently puts a high priority on doing what she feels is right rather than what is expedient.
Burgess has been a devoted student of leadership since her days at Wenatchee High School and Wenatchee Valley College. She went on to become Linda Evans Parlette's trusted aide in the Legislature before taking the position at the chamber.
I sat down recently with Burgess to chat about her leadership philosophy, the experiences that have shaped her career and what she was most proud of during her tenure with the chamber.
She comes from a family of local orchardists who set an example for public service and tenacity.
Burgess took to heart Sen. Parlette's guiding philosophy. "She said, 'I vote my conscience first, I vote my constituents second and then my party third. And I never trade my vote.'" Burgess recalled. "It was this idea that a good policy is a good policy and you shouldn't have to compromise to get it across the finish line from a values standpoint," Burgess continued.
Another key lesson she took from Parlette was that every person was treated with dignity and respect, whether it was Bill Gates Jr. or a school janitor.
Burgess brought those philosophies to the chamber as its newly minted executive director a decade ago.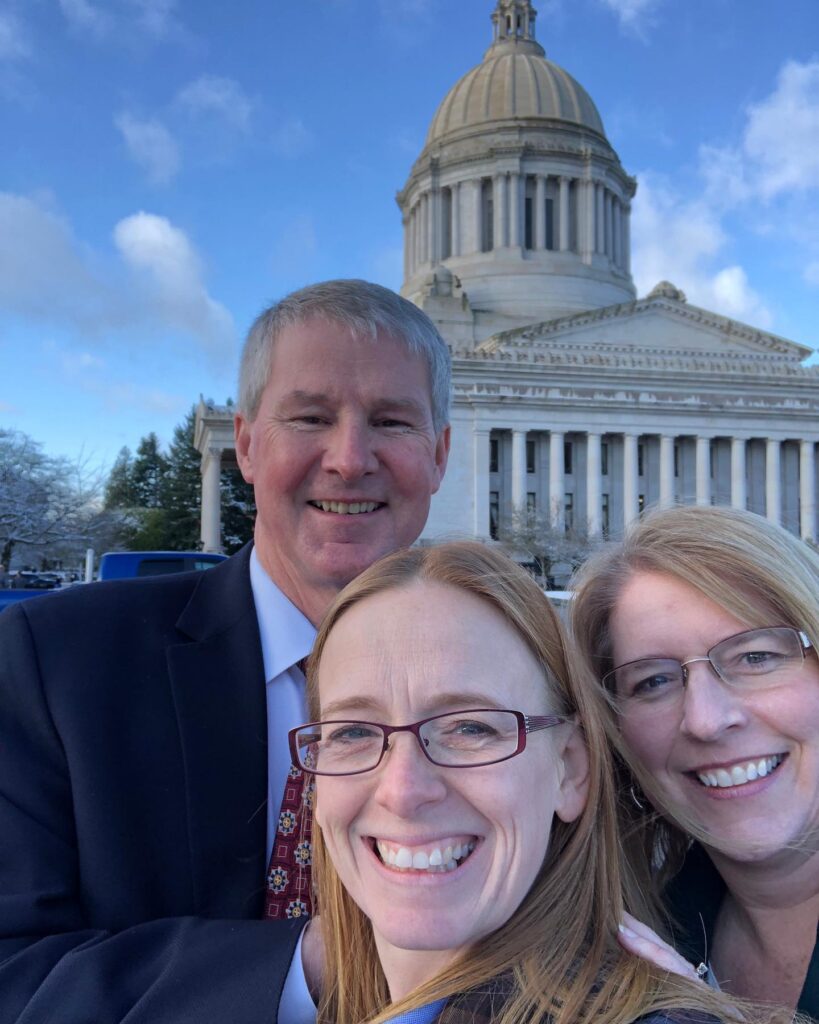 My, what Burgess, her team and the board have accomplished. Membership expanded, the budget multiplied, deep relationships were cultivated and a dazzling new office was developed in the Metropolitan building. The chamber became a powerhouse.
"Her greatest attribute is that she's such a collaborator," said Cheri Kuhn, the incoming board president. Getting the best out of the people you work with is a rare talent and Burgess was a master at doing that.
Burgess told me that one of the critical moves the chamber made during her tenure was bringing in Kuhn as a consultant (prior to her board involvement) to implement EOS, the Entrepreneurial Operating System, a leadership approach based on developing a clear sense of its mission, vision and values.
A core value of that approach is that people matter most so it is relational in emphasis rather than transactional. That was a perfect fit for Burgess's approach, which can be characterized as a relentless focus on what is possible.
This relational approach has paid off.
The chamber has developed a tremendous corps of volunteers — more than 60 — which is a testament to the focus on building relationships. The chamber had a budget of about $250,000 when she started and that has quadrupled to more than $1 million during her tenure. Meanwhile, membership has grown from about 500 to 650 businesses in the valley. The chamber built a powerful advocacy committee and hired a lobbyist in Olympia to give the business community a more powerful voice. A Hispanic Business Council has helped bring more voices in the community to the chamber.
An emphasis on collaboration has been a constant part of her work. Burgess was one of the early instigators of the Our Valley Our Future grass-roots community building efforts that has made an indelible impact on the Wenatchee Valley. Empowering individuals and businesses to get involved and contribute to community betterment has been tremendously successful in moving away from parochial interests and thinking like a single community.
Burgess recognized that it was time for new leadership at the chamber to allow for its next important evolution, and when the opportunity to be part of the Douglas County PUD team was offered, she felt it was time to make a change. Excellent leaders know when it's time for a transition.
Communities are built and sustained by the efforts of leaders like Shiloh Burgess. Her imprint on the chamber and the community has been transformational. I have no doubt she will be a major contributor to Douglas County PUD and continue to foster a sense of community in our valley.
Comments