Chelan glass repurposing project could be the start of something big in NCW
CHELAN — Some of the most impactful community projects have humble beginnings. Such is the case with the Lake Chelan Rotary project to repurpose used glass and create sand and aggregate that can be used in landscaping and other local uses. This effort, the 911 Glass Rescue project, offers a new way to think about recycling material that otherwise goes into the landfill. The name of the project is drawn from the fact that our country throws away between 9 and 11 billion pounds of glass annually.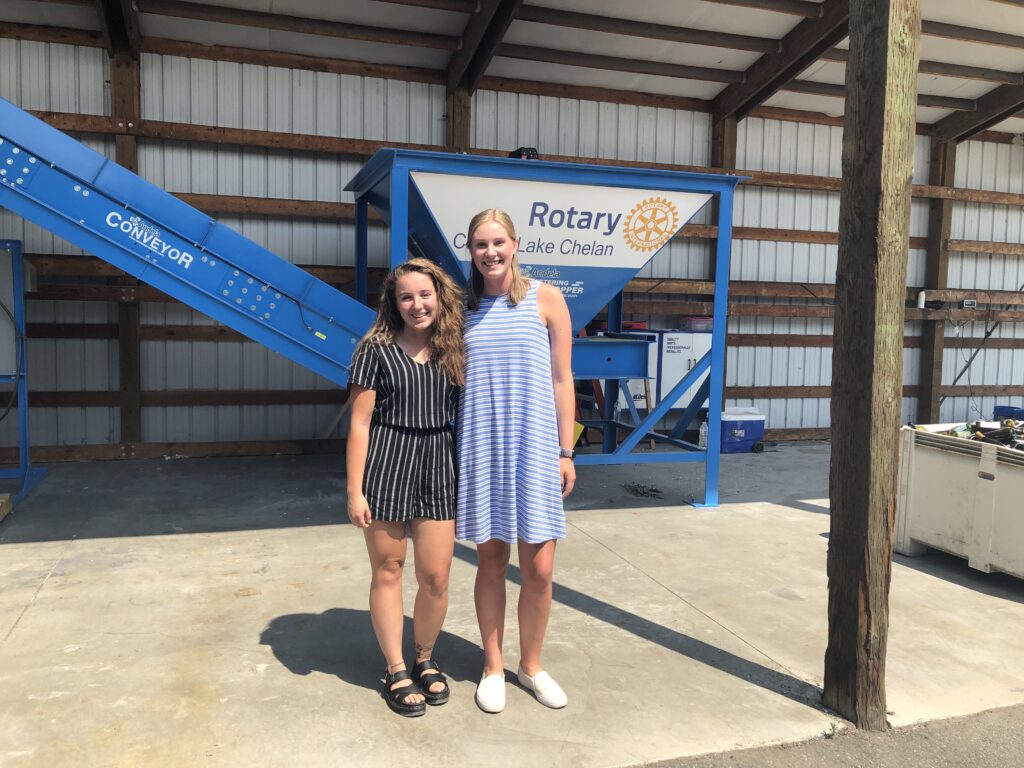 The Rotary Club has raised nearly $150,000 to purchase and operate a machine that takes glass containers, separates out the labels and tops, and pulverizes the glass to create sand and glass. They're doing this in partnership with the City of Chelan, which has contributed $50,000 toward the purchase of the equipment. The state Department of Ecology contributed another $50,000. A number of wineries and other businesses are also supporting this effort.
The seeds of this project go back to a 2018 senior class project by Manson High School students Devyn Smith and Megan Clausen. They researched the issue and started recycling glass.
The Rotary club decided that Smith and Clausen had a good idea and started researching the logistics and finances of an expanded glass recovery project. I recently met with three Chelan Rotary leaders — Lester Cooper, Barry Leahy and Tom Tochterman — to learn about the project.
Recycling is hugely challenging at the local level. Glass is easy to recycle but doing so requires communities to ship glass to Seattle. That's cost prohibitive and environmentally unsustainable.
The beauty of the 911 Glass Rescue project is that they'll be able to repurpose the glass and find local uses for it. The aggregate could be used for local road projects, for example. The aggregate also can be used in landscaping because it retains moisture.
This type of equipment is being used in cities in the Eastern part of the country but as far as they know, this is the first glass pulverizer in Washington. They bought the smallest machine available, which is capable of producing up to two tons of material per day.
Getting this project going took a few years of negotiating with the City of Chelan. Rotarian Julie McCoy, an attorney, took on the task of navigating the operating agreement with the city.
Rotary is using the old recycling center on the outskirts of Chelan and the city is allowing them to use a city forklift to dump the bins of glass into the machine.
Their initial operating plan is simple and relies on local volunteers Rotary is recruiting. The facility will be open on Saturdays and individuals can bring glass and will pay two cents a pound to have it repurposed.
They'll also be selling the sand and aggregate to community members or other organizations. It can be used in countertops, backfill in sewer trenches and a host of other applications.
Cooper noted that they are going to be learning as they go. They don't have answers yet to many questions. True to the spirit of Clausen and Smith, they're committed to figuring it out as they go.
Rotary is involved because it's "good for the environment and will stimulate local economic development," said Tochterman.
Civic leaders in North Central Washington should pay close attention to this project and start thinking about what would be possible if we were to create a regional glass repurposing center in the future.
This is just one more example of the power of community collaboration and investing in creative solutions.
Comments