We can grow community by helping expand Little Essential Pantry effort
It is an interesting paradox that when we are selflessly helping people in need, our own joy and happiness increases. Giving for a greater cause benefits everyone.
We ought to keep that in mind as we think about all of the people who are suffering on account of the COVID pandemic. It's heartening that we have seen a great outpouring during the COVID-19 pandemic in North Central Washington in support of nonprofits serving our most vulnerable citizens.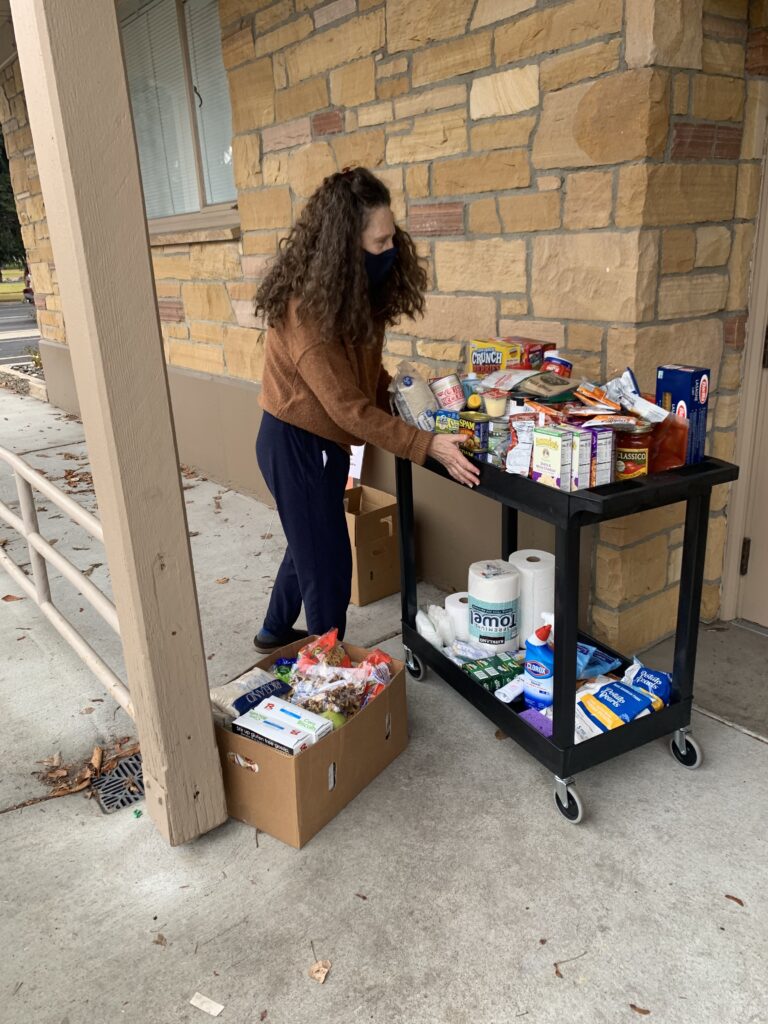 When times are challenging, community members step up to support not only traditional nonprofit efforts but also new programs that pop up to meet an emerging need. One notable new project has been the Little Essential Pantry that have been established in six locations in the valley. Those pantries stock food, cleaning supplies, feminine hygiene products and other essentials intended for people who are struggling to make ends meet.
It operates under the same principles as the Little Free Libraries that dot the community — allowing community members to take what they need and leave what they don't. I stopped by the First United Methodist Church last week to talk with Tracy Faulkner, who has been deeply involved in helping foster a movement in the community of neighbors helping neighbors survive the pandemic.
With the increasing food insecurity in our valley and elsewhere, expanding this effort is an opportunity for those of us with means to help those in need.
During my visit with Faulkner, she showed me the pantry at the church kitchen that was filled with goods. They have the volunteers to put out these free items five times a day, rolling a mixture of cleaning supplies, ready-to-prepare foods and other items on a rolling cart out the back of the building.
It had been two hours since the pantry cart had been restocked and it was empty. Next to the cart, someone had anonymously dropped off two boxes of items to help keep the pantry stocked up.
It's a self-service operation. Nobody checks in goods and nobody monitors folks who are taking supplies. I find something wonderful in that arrangement. Faulkner was telling me that the anonymity makes it easier for folks who never imagined they would be getting groceries from a food bank.
This pandemic has been tremendously difficult for so many folks. At the same time, it has hardly affected others. Faulkner told me about one retired couple who have been unaffected by the downturn and made the decision to regularly buy food and other supplies and help keep the pantry stocked.
While the concept of "take what you need and leave what you don't" is new to most of the community, Community for the Advancement of Family Education (CAF) in south Wenatchee has been doing this for more than 15 years.
I spoke with Alma Chacon, who founded CAFÉ with her husband Jorge. "It makes my heart feel good, seeing people stopping by and taking things," she told me. While CAFÉ has been a hub of connecting the Latino community in the valley, they see a mix of people who both drop off items or make use of goods in their pantry.
Faulkner said CAFÉ deserves a lot of credit for not only having such a program but also in assisting the new Little Essential Pantries get started. CAFÉ partnered with the Methodist Church on a successful grant application from North Central Accountable Community of Health that generated $5,200 towards the establishment of new Little Essential Pantries.
Besides the Methodist Church, pantries can be found in East Wenatchee at Cascade Unitarian Universalist Fellowship and Trinity Lutheran Church, plus Grace Lutheran Church and St. Luke's Episcopal Church in Wenatchee. Cashmere United Methodist Church has a non-food pantry, and CAFÉ operates its pantry independently.
But Faulkner says the need is far greater and would love to see more organizations or groups of individuals starting new Little Essentials Pantries. With grant funding available, Faulkner and other volunteers can help folks get started. She'd like to see pantries throughout North Central Washington.
For people who want to donate, the Little Essential Pantry folks make it simple. There is a Little Essentials Pantry FaceBook group handled by Laurie Flarity-White that keeps people up-to-date on goods that are needed. Donating can be a wonderful family experience of buying goods and donating them, Faulkner said.
For more information on how your group or organization can launch a Little Essentials Pantry, you can contact Faulkner at [email protected]
Here's a list of items suggested by Laurie Flarity-White:
Little Essential Pantry needs:
Pop Top Cans!
Can Openers! (Dollar Store)
Canned Chicken (& tuna, spam, corned beef, etc)
Chili, Hearty Soups (dry mixes are nice!)
PASTA SAUCE
Spaghetti Noodles
CEREAL
Milk Products
Beans (only DRiED ones are needed, e.g. pinto, black)
Rice Noodle/Rice Side Dishes
Microwaveable Meals
Baking Mix/Pancake Mix/Flour/Muffin Mix/
Cake Mix
Peanut Butter
Jam/Jelly/Honey/Syrup
Cooking Oil
Granola Bars,
Nuts
Dish Soap,
Laundry Soap,
Hand Soap
Cleaning Products
Paper Towels
Feminine Products
Toiletries
Hand/Toe Warmers
Comments